Amazing connections, up-to-the minute news, and influential deal makers await at this weekend's Realty411 VIRTUAL Weekend Investor Expo.
Beginning at 9 am PST, Realty411, the longest-running real estate investment media and expo company, is producing their third online weekend expo hosting hundreds of investors from around the nation, and the world.
Realty411 is celebrating 13 years of publishing the most popular real-estate investment magazines in the nation with their original brand titles: Realty411 and REI Wealth. Prior to the pandemic, the company had produced live expos and hosted investors in 12 states, meeting thousands of their readers in person.
The California-based media company is once again going ALL OUT for their 3rd VIRTUAL Weekend Investor Expo this July 25th and 26th, which features some of today's top influencers in the real estate investment industry.
These successful investors and entrepreneurs are sharing their time to give personal investors insight during this unprecedented COVID-19 pandemic crisis.
Now, more than ever, Realty411 wants to unite the REI industry to create a foundation of security and strength for investors — one based on knowledge and community.
Guests who attend this weekend's VIRTUAL Expo on Saturday and Sunday will have the opportunity to connect LIVE with phenomenal and successful educators. These experts sincerely want to make a positive impact in the lives of the masses by teaching about the life-changing benefits that real estate investing can provide.
This is a unique opportunity to also ask top experts any real estate-related questions directly via chat.
Realty411 is once again leading the industry by creating an amazing platform to learn and network, at no cost to investors, thanks to the support of stellar companies who are sponsoring this complimentary online conference.
The solid line-up for this weekend is spectacular, so it's imperative that investors carve out time to enhance their education, as well as to acquire the inside information needed to make intelligent financial decisions.
If one wants to start or grow their real estate portfolio, it's paramount that they invest time this weekend to learn from time-tested professionals who are sharing their knowledge.
To RSVP for Realty411's VIRTUAL Weekend Investor Expo, PLEASE CLICK HERE. If the system asks for a password, please type: Realty411 (capital R and one word).
To download the recently-released expo agenda, PLEASE CLICK HERE.
The expo schedule is also outlined below.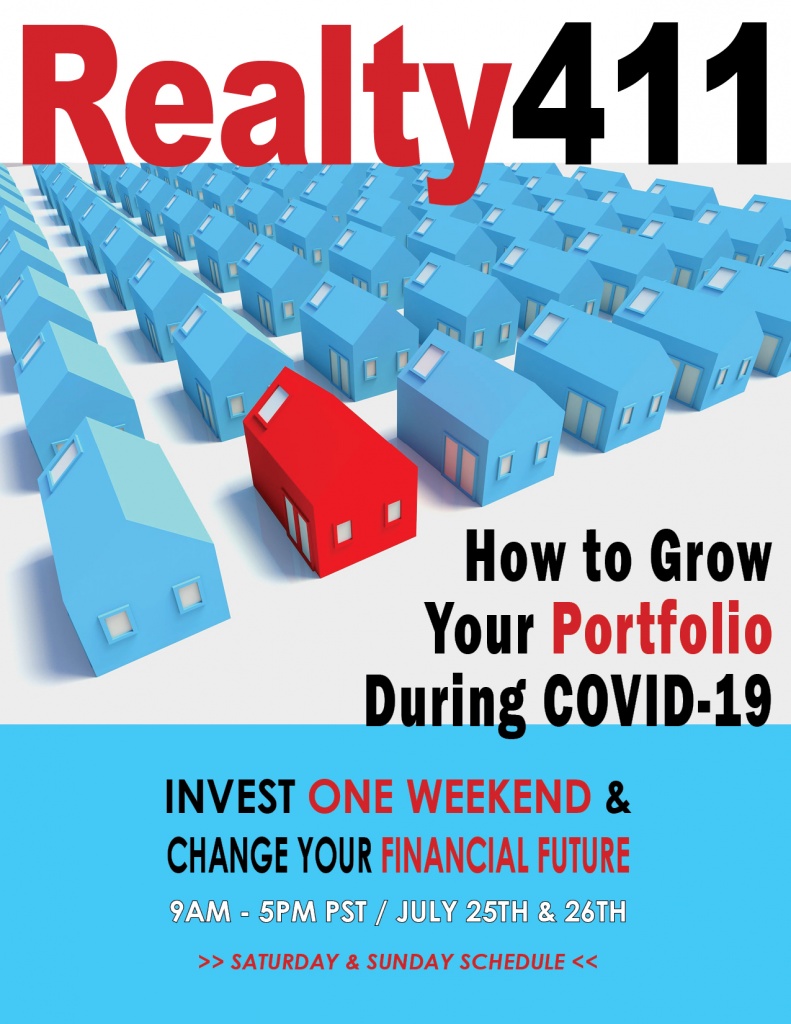 REALTY 411 VIRTUAL EXPO JULY 25 & 26
FROM 9 AM TO 5 PM PST – PACIFIC STANDARD TIME
Hosted by Dave Grimm, Linda Pliagas and Paul Finck
SATURDAY, JULY 25th – WELCOME!
9:00 – 9:15 am PST
Linda Pliagas & Dave Grimm
Welcome to Saturday's Expo!
Ask Your Questions Via Chat After Every Session!
9:15 – 10:15
Dave Lindhal – REMENTOR.com
Discover How COVID-19 will Create Great Opportunity for Investing in Apartments
10:15 – 11:15
Travis Abbott – INVEST 1 PROPERTIES
Learn About Incredible Cash Flow Property Opportunities in Kansas City
11:15 – 12:15
Matt Bowles – MAVERICK INVESTOR GROUP
How to Make Smart Real Estate Investing Decisions During the Pandemic
12:15 – 1:00 LUNCH TIME – Please take a nutritious break.
HOSTED BY PAUL FINCK, THE MAVERICK MILLIONAIRE
1:00 – 2:00 PM, PST – PACIFIC STANDARD TIME
Kaaren Hall – uDIRECT IRA SERVICES
Build Tax-Free Wealth with a Self-Directed IRA Starting Today
2:00 – 2:30
Ross Hamilton – CONNECTED INVESTORS
The State of Financial Lending Now
2:30 – 3:30
Hugh Zaretsky – eFAMILY OHANA
Finding Deals in 6 Minutes + How to Invest During COVID — Including AirBnB
3:30 – 4:00
Dave Grimm – END 2 END RESULTS
Lead Generation for Serious Real Estate Investors
4:00 – 5:00
Jason Jones – EXPERT WEALTH BUILDER
Out-of-State Property Investing Like a Pro for Cash Flow Through Commercial Real Estate
SUNDAY, JULY 26th – WELCOME TO SUNDAY'S SESSION
9:00 – 9:05 AM PST – Introduction by Seti Gershberg – Get Ready for an Incredible Day
Ask Your Questions Via Chat After Every Session!
9:05 – 10:00
Hannah Kesler – THE MONEY MULTIPLIER
Learn About The Money Multiplier Method And Change Your Life Forever
10:00 – 11:00
Ross Hamilton – CONNECTED INVESTORS
Learn About PIN, The Software that Is Disrupting the REI Industry
11:00 – NOON
Rusty Tweed – TFS PROPERTIES
Coronavirus Outbreak and Its Effects on Rental Property and 1031 Exchanges
12:00 – 12:45
Dave Seymour – FREEDOM VENTURE INVESTMENTS
The Inevitable Market Correction – How to Not Just Survive BUT thrive With CASH FLOW
12:45 – 1:15 LUNCH TIME – Please take a nutritious break. We will see you again soon!
HOSTED BY JAY TANNENBAUM, REI BLADE
1:15 – 1:45
Seti Gershberg – REI BLADE
Focus on Profits Instead of Spreadsheets with New Technology
1:45 – 2:45
Jeremy Rubin – THE FRIENDLY FLIPPER
Meet One of California's Most Successful Rehabbers – Duplicate His Success
2:45 – 3:45
Gabriel Hink – THE HOTEL VETERAN
The Best-Kept Secret in Commercial Real Estate Especially in Today's Environment
3:45 – 4:45
Paul Finck – THE MAVERICK MILLIONAIRE
Maximize Your Mindset & Transform Today's Negative Landscape Instantly
4:45 – 5:00
FINAL WORDS – Linda Pliagas – REALTY411 & REI WEALTH
Investors: We Are Here for You
OUR EMCEES:
Dave Grimm, Seti Gershberg
Linda Pliagas & Jay Tannenbaum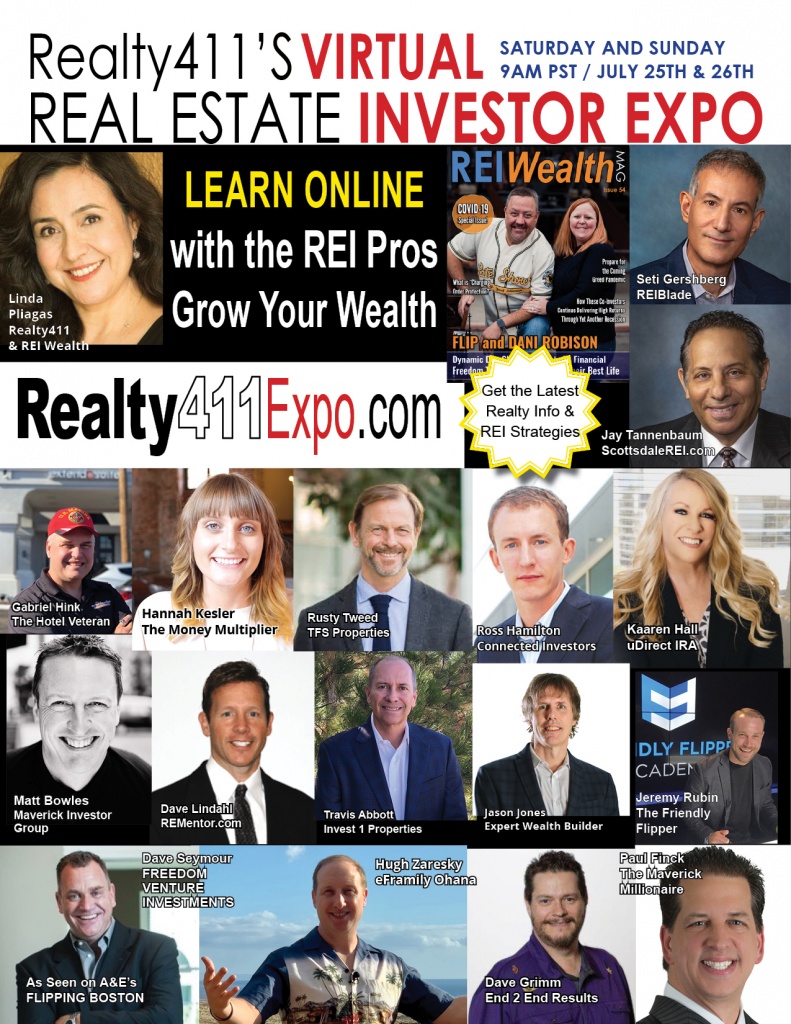 ---
THANK YOU TO OUR SPONSORS:
REI Blade
eFamily Ohana
REMentor.com
Realty411.com
REIScottsdale.com
End 2 End Results
uDirect IRA Services
Connected Investors
The Friendly Flipper
Invest One Properties
Maverick Millionaire
REIWealth Magazine
The Money Multiplier
Expert Wealth Builder
Maverick Investor Group
Freedom Venture Investments
VISIT REALTY411.COM­ FOR MORE INFO