Dear Realty411 Investor;
You are cordially invited to attend our Santa Monica Real Estate Conference this Saturday, September, 23rd.
at The Doubletree Suites By Hilton Hotel Santa Monica , from 9:00 AM to 5:00 PM
We are having an explosive event, chock-full of valuable information, coming to your area!! There is discount valet parking available for only $10 all day so come and stay a fun evening in Santa Monica, one of the trendiest areas of Los Angeles County.
There will be FANTASTIC speakers with YEARS of experience, such as Dr. Albert Lowery, HomeVestors Of America, Black Belt Investors, Armando Montelogo and Kathy Fettke!!
Meet real estate club leaders from around the world and finance experts who can help you FIND THE FUNDS TO CLOSE DEALS!
Tickets are free, so reserve your seat, for yourself and those that would like to come with you, before they are all gone!
~~~~~~~~~~~~~~~~~~~~~~~~~~~~~
~~~~~~~~~~~~~~~~~~~~~~~~~~~~~
Most events charge hundreds of dollars to learn the SAME INFORMATION and to meet the SAME SUPERSTAR SPEAKERS!
As active and successful investors in California, we are providing this expo as a way to give back to our industry and our fans, all we ask is that you help us create a buzz by telling your friends and promoting it on social media… our expo hashtag is: #REALTY411SANTAMONICA
LOCATION:
As a friendly reminder, the venue is located at:
Doubletree Suites by Hilton Hotel Santa Monica
1707 4th St, Santa Monica, CA 90401
Please join us in the CAROUSAL Ballroom
EXPO TIME AND AGENDA:
The event starts at 9:00 am and ends at 5:00 pm.
Regular registration for our coffee mixer is at 8:45 am.
OUR EXPO MENU:
Freshly-brewed Coffee and Herbal Tea selection
Assorted Muffins, Croissants and Danish
Yogurt Parfaits and Fresh Sliced Fruit
For Our Afternoon Break:
Mediterranean Antipasto featuring Imported Italian Meats and Cheeses,
Calamata Olives, Artchioke Hearts, Roasted Garlic, Roasted Peepers and Pepperoni,
Buffalo Mozzarella, and Roma Tomatoes with Fresh Basil, PLUS, Kashi Bars and Fiber One Bars
CONTACT 411:

Should you have any questions, please call 805.693.1497,
or our mobile number at: 310.994.1962
More information, please also visit:
https://realty411.ticketleap.com/realty411santamonica/
---
** DOWNLOAD OUR AGENDA HERE **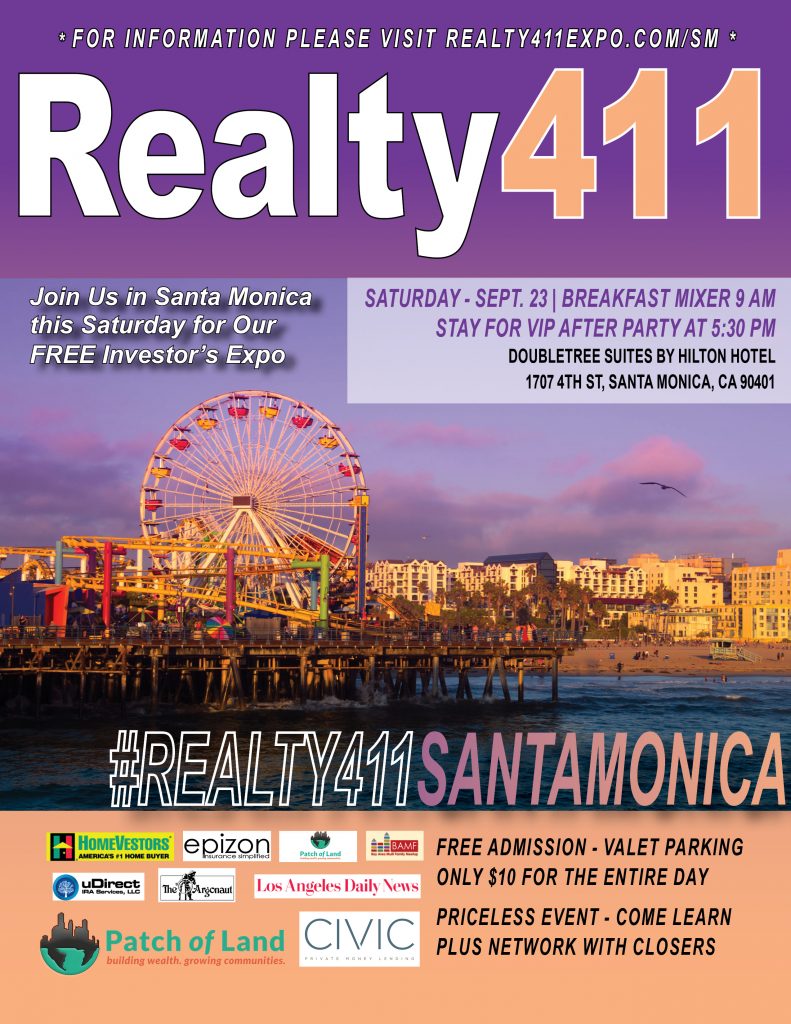 Save
Save
Save
Save
Save
Save
Save
Save
Save
Save
Save
Save
Save
Save
Save
Save
Save
Save
Save
Save
Save
Save
Save
Save
Save
Save
Save
Save
Save
Save
Save